This series is a light-hearted fantasy sex adventures about a couple – SARA and STONEY – who protect the world from the supernatural by fucking the monsters out of existence. These two love their "job." Thus, the show should be enjoyed with a light heart and a smile. I love this series. It is fun, sexy, beautiful, and technically very well done. Follow this link and enjoy some sexy 3D fun!
I appears that the Androsian Prophecy and Nikki Sprite comics are no longer in development, so I have removed those links.
Traditional Art Comics

Android Blues is an amazing new web comic. The story is reminiscent of the great Anime movies of the early nineties, like Akira and Ghost in the Shell. The art is beautifully drawn, and thankfully, our heroines clothing keeps exploding off of her. 🙂 This is a must read for any fan of anime, science fiction, or Bladerunner.

The Cummoner is beautifully drawn, funny, and drop dead sexy. Join the young Sorceress Vilga on her many sexcapades as she learns to harness her powers and her body. Be warned, good readers, this one is definitely for adults only.
This is one of the most bizarre and interesting comics I have ever read. You never know what is going to happen next as you follow the adventures of the oddly sexy Cochlea and Eustachia through their dreamlike landscape of oddities and impossibilities made real.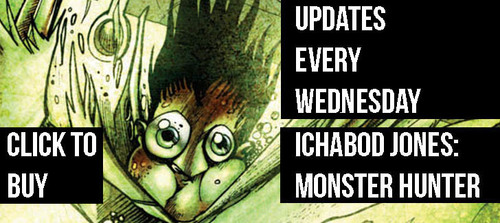 I absolutely love this comic! This guys style is incredible. The perspectives he creates in his action sequences are amazing and hypnotic, and the story is dark and heroic, just like I like'em. This is definitely worth the time to read and purchase!

Flipside has become one of my favorite online comics.  The storyline is extensive, the art is often quite striking, there is great humor and lots of badass anime style action.  I recommend this comic to any fan of anime, manga or fantasy – this one has it all.

Derelict is a beautifully drawn comic set in a disturbing and fantastic post-apocalyptic future. The main character, Dang, is somehow kick-ass and vulnerable all at the same time and the mutants are super creepy cool. This one is definitely worth the read.

Demon Hunter Kain is a fantastic horror comic. It reminds me of the great Japanese anime horror movies from the 80's and 90's like Urotsukidoji…but without the constant and sadly ridiculously over the top sexual content. The art in this comic is amazing. The demons are bizarre and terrifying and the action sequences are totally engrossing.
Want to set up a link to our site? Feel free to use any of our banners:

…more banners to come…