on
February 16, 2016
at
12:56 pm
…a little late. Sorry about that. But, better late than never!
This year for Valentines Day, Maeye gave Arayanna an lingerie fashion show. (Thank you, Kenna, for the suggestion!) Wonder how long Aray will hold out…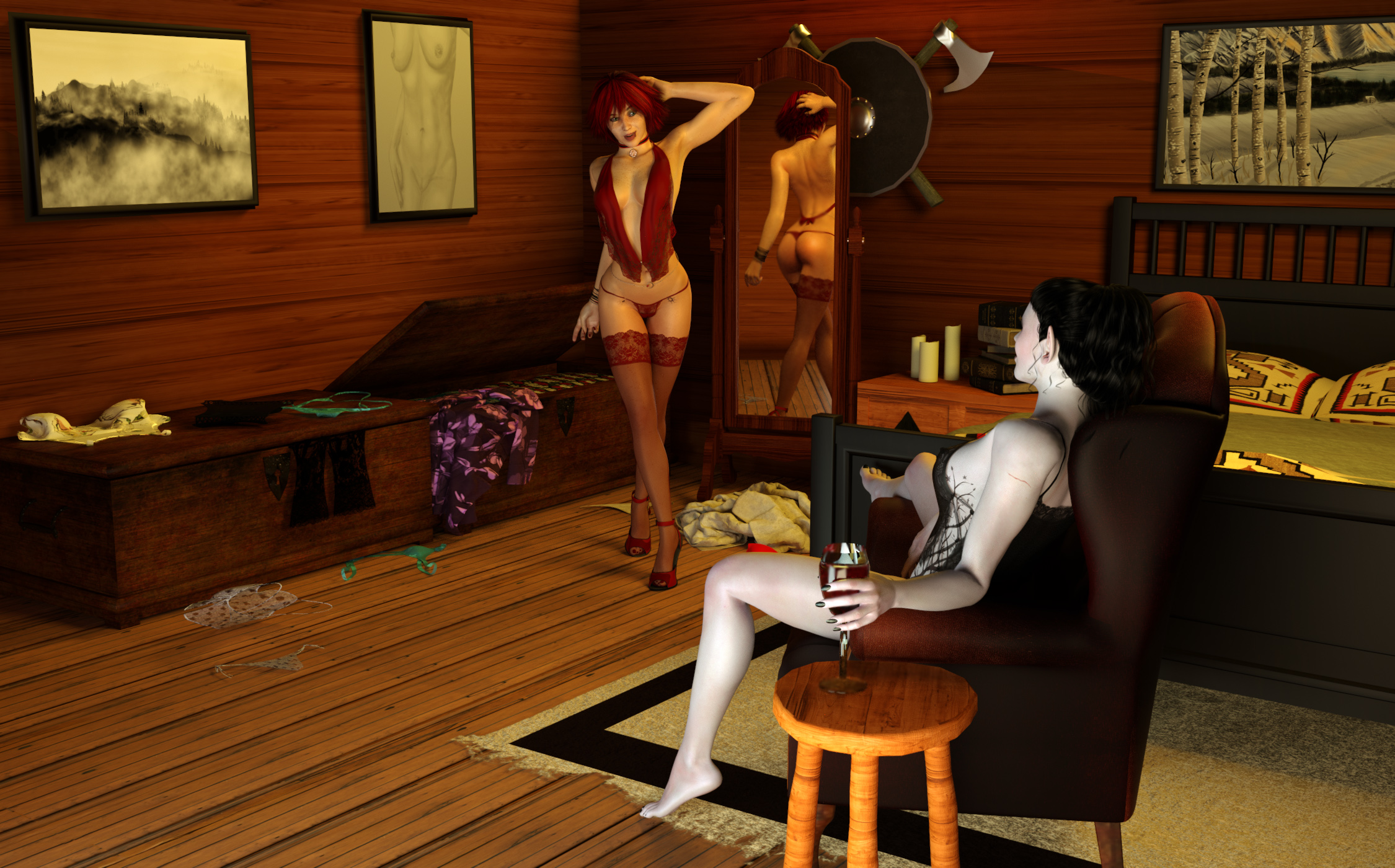 And once again, we are participating in Sarah Zero's VDSD. Hit some links below for some sexy fun. Be warned, some of this is very NSFW.
Vas n' Ram – 3 Dangly Bits | MonicaNG – MoonSlayer | Nick Greaves – The Great Isle of Prentil | NoiV – The Secrets of the Afterlife | Emy Bitner – Trying Human | Hiro Odan – Bridge University | Jackarais – Bicycle Boy | Krazy Krow – Spinnerette | Nunc Dimittis – Res Nullius | Rd Ashes – Dyerin's Line | Amy Letts – Epic Fail | Ebenezer Splooge – Portcall Uranus | Ebenezer Splooge – PronQueens | Ebenezer Splooge – Mammazon | Ebenezer Splooge – Hentai Poster Company | Ebenezer Splooge – Magical Virgin Princess Training Academy | Ebenezer Splooge – PronQuest | Andrew Hunter – Delve | F. T. Benjamins – Winners and Losers | Dave Barrack – Grrl Power | Mike Aston and Shaun Nicholls – Lacey Investigations | Captaingerbear – Grant | Niauropsaka – Raspberry Rain | TK Doherty – Nikki Sprite | Lou Graziani – CyBoar | Mark Egan – Bata Neart | Mark Egan – Back Office | Spaces and Tempo – Yestergirls | Jeremy Begin – After the Dream | Heather Meade – dream*scar | R(ed) – Meiosis | argylefox – Indifferently Evil | jeromatic – Jeromatic Tales | jeromatic – Bunny Wiggins | Zach Vanzile – West Tree Academy of Heroes | yellowgerbil – Zoe the Vampire | Asmodeus – Exorcism Academy | John Harrington – The Savage Sword of Sharona | Sean Harrington – Spying With Lana | Peter Anckorn – By The Book | Alli Perry – Out of My Element | Caley Tibbittz Collopy – Eternal Knights | Byron Wilkins – 1977 the Comic | Kami – Get Your Man | The Blood Teller – Alvery Nerveaux's Secret Case Files | Vas Littlecrow Wojtanowicz – Velvet Rasputin | Bearalzebub – Devilbear: The Grimoires of Bearalzebub | Stef Marcinkowski – Sarah Zero